About Sifu Mark Chen
Mark Chen is a 20th-generation lineage holder in Chen Family Taijiquan, and a formal, rumen disciple of 19th-generation grandmaster Chen Qingzhou (

, 1934-2015) of Xulü Village, Henan Province, China. Mark has been teaching Taijiquan for well over twenty years. He holds an instructor's credential (quan shi rank) from the certification board of the Wen Xian International Taijiquan Conference (

), the official accreditation body for Chen Family Taijiquan instructors in China. He is also a certified senior instructor in the Chen Qingzhou Martial Arts Association (


, accredited under China's Ministry of Education) and the public relations director for the National Neigong Research Society (NNRS).
Grandmaster Chen Qingzhou (left) with Mark Chen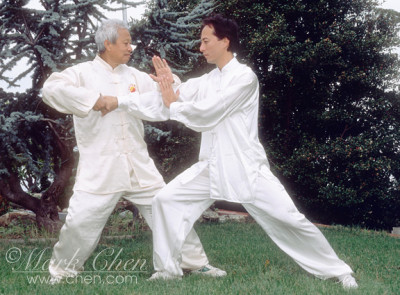 Mark began Shaolin training in 1973 under the renowned master Guo Lianyin (

, 1895–1984) , who was considered by many to have been one of the top martial artists of the twentieth century. In 1979 he progressed to Yang Style Taijiquan under Master Bill Gee, and in 1996 began studies in Chen style Taijiquan with Master Zhang Xuexin (

) of San Francisco (preferring the more vigorous, martial orientation of the Chen system). The following year, he met Grandmaster Chen Qingzhou, a disciple of the great 18th-generation grandmaster Chen Zhaopi (

, 1893-1972). Mark became a student of Grandmaster Chen at that time, and was granted disciple status in 1999.
Mark is the author of Old Frame Chen Family Taijiquan and Chen Style Taijiquan Collected Masterworks, both published by North Atlantic Books.